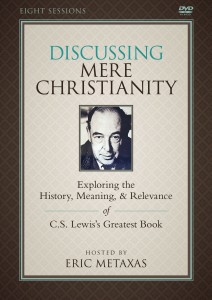 Disciple ministries are continuing to grow at Charleston Presbyterian with the addition of a new Adult Sunday School Class to begin this Sunday, September 13, 2015 at 8:45 AM.  Our initial curriculum will be a discussion DVD led by Eric Metaxas on C.S. Lewis's Book, Mere Christianity.
In this 8-session video group study and discussion, you will discover why Mere Christianity by C.S. Lewis is one of the most read and beloved Christian books of all time.  But seventy years later from when it was first delivered on radio, what relevance does it have to our world today?   Host Eric Metaxas and a variety of Christian leaders−including Philip Yancey, Alister McGrath, Devin Brown, Paul McCusker, Douglas Gresham, and others−help us understand the timeless message of C. S. Lewis in fresh ways for a new generation.
Join us for this 8 week study every Sunday at 8:45 AM at 232 Calhoun Street in Charleston, SC.