Our Lord established a new ECO church plant in Charleston on December 7, 2014.  The Charleston Presbyterian Church is a faithful Presbyterian congregation that believes the Gospel of Jesus Christ and accepts the Scriptures of the Old and New Testaments as God's infallible Word.  CPC is a church where people can truly grow as Christ's disciples and also have opportunities to help make disciples for Jesus.  CPC is a wonderful alternative for Christians who want to follow Jesus and not merely adhere to political correctness.  God's people at CPC profess the revealed Christ of the Scriptures, not some imaginary Christ.  We confess that Jesus Christ is Lord of all and the only Savior of the world.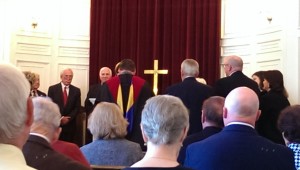 CPC was begun in prayer, and in less than a year the Covenant Order of Evangelical Presbyterians has recognized CPC as an organized part of the body of Christ.  God did it.  May God receive all the glory and honor and praise!  At the East Central Presbytery on October 9, 2015, we were officially brought to the floor for approval before our presbytery.   Our pastor, team of leaders, and entire congregation celebrate the good news of Christ working through the people of CPC.
Then at 10:00 AM on Sunday, October 18, 2015 our elders were ordained and installed along with our pastor, Rev. Dr. Earl A. Bland. A commission of the East Central Presbytery was present to lead the installation and ordination of our elders and the installation of our pastor through the laying on of hands and prayer.  We thank the Lord for those people who are pioneers with us on this new adventure.  We are grateful for the families and individuals at CPC who are pioneers and missionaries in the faith and who want to be more than just good consumers of local church programs.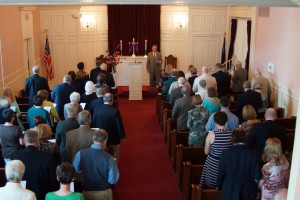 Our Assistant Pastor is Ms. Margaret Harouny, who will be ordained and installed on November 1, 2015 at St. Luke's Chapel.  See what God is doing in the lives of the faithful remnant of Christians who meet every Sunday at Charleston Presbyterian Church at Stuhr's Chapel at 232 Calhoun Street in downtown Charleston.  Click below to see CPC on the ECO national map.