This Sunday, June 12, 2016 at 10:00 AM Charleston Presbyterian Church will be hosting the Genesis Youth Choir all the way from Highland Park Presbyterian Church in Dallas, Texas!  Ms. Gay Munselle is the director and she is excited about sharing this group with CPC.  They will be singing throughout the worship service that has been especially designed for this wonderful experience.   The message will be entitled, "Forgiven Much, Love Much" and will be focused upon how our perception of forgiveness affects how much we love and serve Jesus.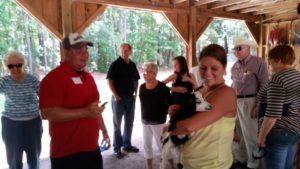 Bring your family and friends!
Then directly after worship, we will be headed to our 2nd Annual BBQ Picnic on the Farm!
Don't Miss It!  We will have a delectable spread of pork, chicken and ribs.   And for those with a sweet tooth – desserts too!  Entertainment for kids of all ages.  A sample includes – goats, chickens, a fishing pond, swings, trampoline and a jump castle – and much more!  Click on map to farm to find out how to get there!