Charleston Presbyterian Church and Charlestowne Methodist Church, (1405 Miles Drive across from Charlestowne Landing) are working together to bear fruit for the Gospel of our Lord and Savior Jesus Christ!  CPC is thrilled to have a new church home at CMC which began on Sunday, September 11, 2016.  Every Sunday, CPC will be gathering for worship at 9:45AM.   Sunday Small Groups will meet at 11:15.  We will also share together in a Church Cookout on Saturday evening at 6:00 PM, September 10th with an Open House at CMC.
Representatives from CPC and CMC held our preliminary meeting at Charlestowne Methodist on June 15, 2016; and this is what our joint committees saw outside the church after we concluded our first wonderful meeting together!
As if one rainbow were not enough, we looked more carefully, and we actually glimpsed two rainbows in the sky.  It was as if God gave us a sign that He approved of our two churches in partnership.  Both congregations want this to be a symbiotic relationship where all people are benefited by Christ's Church working together as one.  Could these rainbows be a promise of great things to come?  Yes!
The congregation vote at CPC was made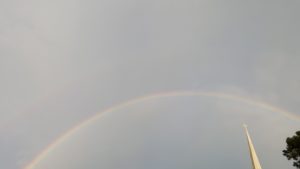 on July 31, and it was unanamious.  CMC voted August 7, and it was also unanamious!  When have you ever heard of such Christian unity between two churches of different denominations?  This is the way God's Church was intended to be!  May God be praised!  God established CPC, and now He has continued to supply our needs according to His riches in glory!
The new schedule for CPC at 1405 Miles Drive is as follows: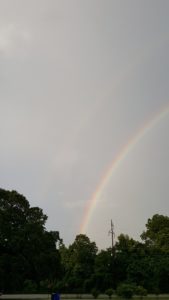 9:00-12:30  Sunday Nursery
9:15-9:45  Joint Coffee Fellowship
9:45-10:45  Worship (CPC)
10:45-11:15  Joint Coffee Fellowship
11:15-12:00  Sunday Small Groups
Be our guest on any Sunday at CPC and stay tuned for more activities!
We are also forever grateful to Stuhr's Funeral Home in downtown Charleston for their service to our community and their gracious help and support.