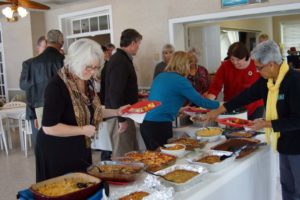 Thanksgiving is the time to remember how the early American colonists and the native people of America first worked together to help survive the difficult winters and how their prayers went up for God's protection.  God answered their prayers.
Thanksgiving is a special holiday to thank God for His salvation and the many blessings in our lives.  Today, we are reminded that people from every walk of life are brought together by the Spirit of God in Christ to support one another.   We know that in Christ's Church, "There is neither Jew nor Greek, there is neither slave nor free man, there is neither male nor female; for you are all one in Christ Jesus."  (Galatians 3:28)  Let us celebrate the grace of Christ in our lives and show our gratefulness this year at Thanksgiving by worshiping our Lord and Savior.
Charleston Presbyterian and Charlestowne Southern Methodist  are inviting the community to join us for a Community Thanksgiving Service on Sunday, November 20th at 11:00AM.  Please call either church office (843) 437-8219 (CPC) or (843) 766-9405 (CMC) for more details.  We would love to have you and your family as our guests and to celebrate Thanksgiving together with us.  May the Lord bless you and your family abundantly.