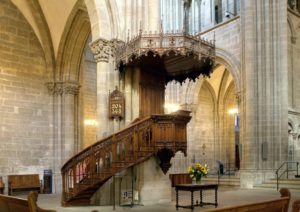 We are going to have a very special worship experience at 9:45AM on October 29, 2017.  That Sunday is the nearest Sunday to the 500 year anniversary of the Reformation,  which was on October 31, 1517.  We will be using the order and elements from John Calvin's Geneva service, which almost always included communion.   We will have some special music, communion, and a Reformation message with historical notes and comments to help us as we make our way through this historic order of worship from the Reformation.
John Calvin typically opened by entering the sanctuary and positioning himself behind the communion table.  Then he would say, "Our help is in the name of the Lord, who made heaven and earth!" (Psalm 124:8)  A call to the confession of sins and an appropriate prayer followed.  In Strasbourg, after confession, he used an absolution, "To all those who thus repent and seek Jesus Christ for their salvation, I pronounce absolution in the name of the Father, and of the Son, and of the Holy Spirit.  Amen."
Come, experience the historic ways our spiritual forefathers/mothers worshiped God!  After the service and our Sunday Small Groups at 11:00AM, we will have a luncheon in the Family Life Center at around 12:00, Noon.