The worship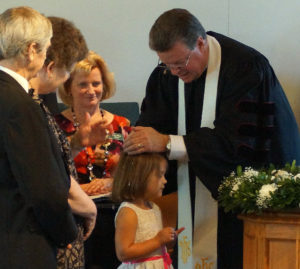 experience is inspiring and unique at CPC, but also somewhat traditional.  There is an opportunity for every person to participate in worship through the Prayers of the People and the Sharing of Opportunities and Celebrations.  We also have liturgists from the congregation and youth helping to lead worship.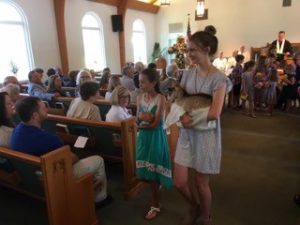 The message for children, youth and adults is always creative and unpredictable with object lessons, stories, parables, music and the ever popular, "What's In the Bag?"  of which everyone seems to be curious.  "One, Two, Three… What's In the Bag?"
The main message is always true to the Scriptures and faithfully proclaims the Good News of Jesus Christ.  The music and message are interwoven and are relevant to our modern lives.  The Chancel Choir is growing, and we would welcome your voice.  Just meet us on Wednesday nights at 7:00 for practice. The whole worship experience encourages everyone to personally know Jesus Christ as Savior and to grow as His disciple. We welcome you to join us to worship our Lord this Sunday morning at 9:45.  All visitors are our guests and we want them to feel at home.
Resonate! Prime Youth Choir Singing "Be Thou My Vision"

The Lord's Supper is celebrated on the first Sunday of every month.
We always have fresh flowers from members of the Floral Guild.